It is not simply human wisdom, the fruit of knowledge and experience? The wisdom the Holy Spirit grants is the grace of being able to see things through God's eyes. It is seeing the world, situations, problems, everything, with the eyes of God…. the heart of the man who is wise in this way has the taste, the flavour of God. We have the Holy Spirit inside us, in our heart; we can listen to it, or we can choose not to listen to it. If we listen to the Holy Spirit, He will teach us this way of wisdom, and will give us the wisdom to see through God's eyes, to hear with God's ears, to love with the heart of God, to judge with God's judgment. This is the wisdom that the Holy Spirit gives us, and all of us can have this.
- Pope Francis
Our Mission
Santa Sophia Catholic College provides an innovative contemporary learning experience within a Catholic faith community.
Our values are Wisdom, Faith, Hope and above all Love.
Our motto is 'Wisdom through faith, hope and love'.
Our school colours are fuchsia and navy.
---
Our Patron Saint
Saint Sophia the Martyr (died AD 137) was born in Italy.
Saint Sophia had three daughters: Faith, Hope and Charity, who were named after virtues mentioned in Saint Paul in 1 Corinthians 13.
Saint Sopha was venerated in the Eastern Orthodox Church on September 17th. Her Feast Day, for the Catholic Church, is 15th May.
The daughters are said to have been martyred during the reign of Hadrian (117-138). Guards took Sophia's daughters one by one, from oldest to youngest and beat and tortured them to death in an attempt to force their mother Sophia, to renounce her faith in Christ.
Sophia buried her daughters' bodies and remained by their graves for three days until she died herself.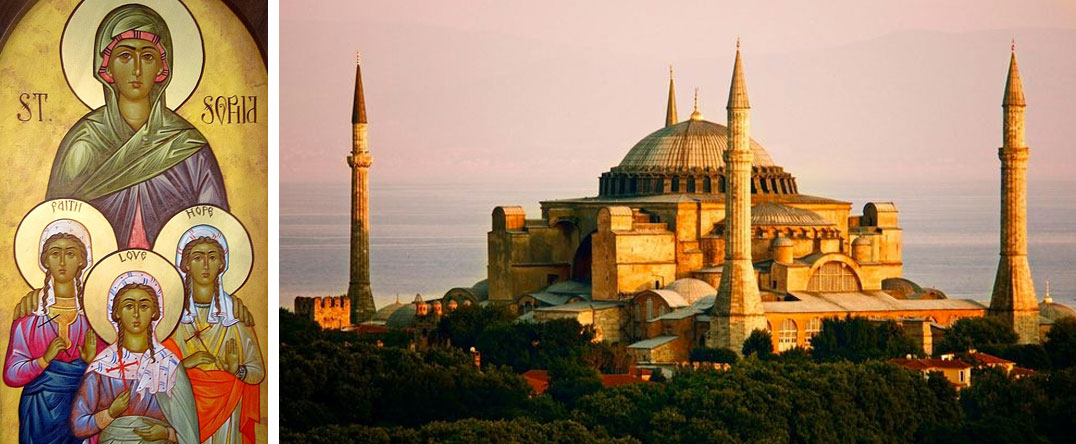 The name Santa Sophia means 'Holy Wisdom' and can be traced back to Greece in the days of the Roman Empire.
In the city of Constantinople (Istanbul), on the same spot where Constantine, the first Christian Emperor, had built a basilica two hundred years earlier, the Emperor Justinian erected a monumental church in honour of 'Hagia Sophia' the Holy Wisdom in year 538.
The title 'Hagia Sophia' or Santa Sophia, has remained popular ever since.
In the Bible, Wisdom refers variously to smart decision making, wise teaching, a body of literature, a remarkable woman and the person of Jesus.
Wisdom is also presented as divine attribute: an aspect of God to be imitated by those made in God's likeness.
The Holy Spirit imparts seven gifts to those fully initiated into the church; wisdom is at the top of that list, followed by understanding, knowledge, counsel, courage, reverence and wonder in God's presence.
Wisdom comes first as the grace that assists in the practise of all other virtues.
---
Our Logo
The school crest for Santa Sophia Catholic College is imbued with the charism of Saint Sophia and the values of Wisdom, Faith, Hope and above all Love. It is a symbol that reflects the Santa Sophia Way.
The TREE is a symbol of growth and wisdom. It is a living thing - as we grow and develop we become more mature, our personality emerges and begins to flower and fruit ( a very feminine symbol - Santa Sophia was also a mother) providing a path to the wider world and life-long learning. It is also a symbol of renewal and rebirth.
WISDOM is the first and highest gift of the Holy Spirit. The Holy Spirit is often represented by flame or fire. The leaves on the tree are not drawn as a typical leaf but more as a stylised flame shape. If you look closely you will see the use of negative space to create a flame shape from the arms to the top leaf.