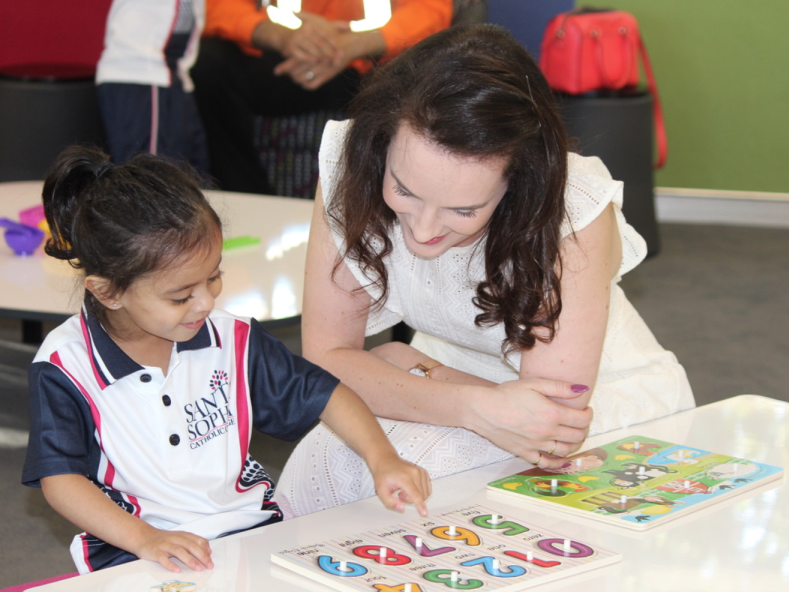 (Santa Sophia College Kindergarten student Saachi Doctor gets to know her teacher Miss Stephanie Musgrave)
History was made when Catholic Education Diocese of Parramatta's newest school, Santa Sophia Catholic College this week welcomed its first cohort of Kindergarten students into its growing school community.
The 19 students will be temporarily located in a specially designed demountable classroom located at Our Lady of the Angels in Kellyville. They will be taken on their learning journey with Kindergarten teachers Miss Stephanie Musgrave and Miss Deniece Ganak who have welcomed the students with open arms.
College Principal Mark De Vries said the teachers have been working very hard in the lead up to this day. "We are planning for these students to be with us right up until 2032, which will be when they will leave high school! We are excited about the future because we are a school community with a Kindergarten to Year 12 focus."
First day Kindergarten student Saachi Doctor was super enthusiastic about starting school, getting up earlier than usual. Her dad Mausam said she was so excited that she did not sleep, and got up at 4.00am. "I think she may need a little nap today, it will be interesting to see how her first day goes," Mr Doctor said.

(Santa Sophia Kindergarten students get to know each other on their first day)
Mr Doctor said they chose Santa Sophia because they will be moving into Box Hill and have heard very good things about the school and principal Mr De Vries.
Another parent Katrina Leech said they are currently getting their home built in Box Hill and had their eye on the school's development with the hope of getting their boys all enrolled one day. Flynn, her youngest child, is starting Kindergarten this year.
"We are very happy to make a commitment to Santa Sophia. I am actually looking forward to having them all in the one place eventually, so I don't have the extra pick up and drop off," Mrs Leech said.
Keziah Annie Jacob said her daughter Anna Susan Shine was most excited about wearing her new uniform and shoes. Anna's parents particularly liked the school for its "focus on STEM subjects (Science, Technology, Engineering and Mathematics)."
For parents Sheila and Jason Fernandez, choosing a Catholic school for their son Sebastian was always going to be on the cards. "We both attended Catholic schools and we want the same education for our children," Mrs Fernandez said.
This cohort of Kindergarten students are in a unique position as they will be the first cohort through each grade until they begin secondary school.

(Santa Sophia College Kindergarten teachers Miss Stephanie Musgrave and Deniece Ganak)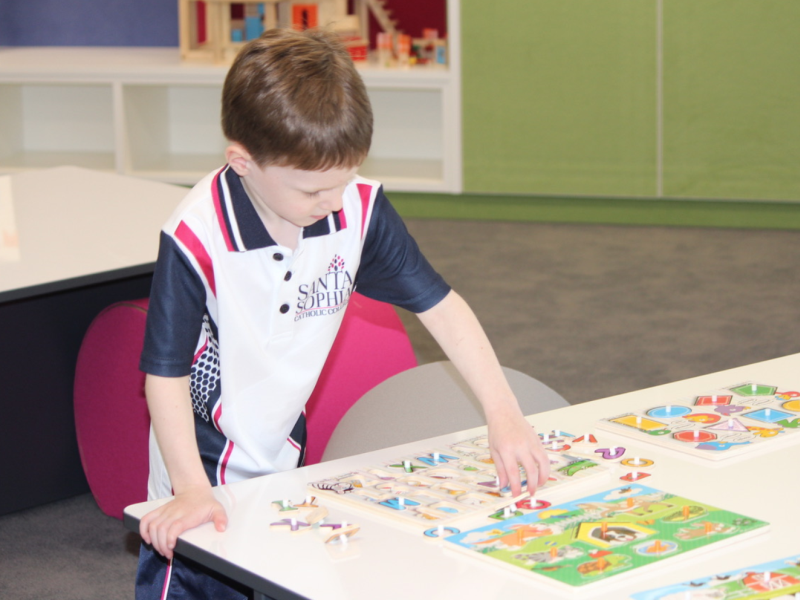 (Kindergarten student Luke Bollard settles into Santa Sophia College on his first day)